Undergraduate
International Students
Internationally recognized for changing lives, Florida Southern is committed to connecting international students with real-world experiences.
Florida Southern Has A Lot To Offer International Students
More Than
50
Countries Represented
More Than
100
International Students
We Offer All The Most Popular Undergraduate Programs
...and we offer great graduate and doctoral programs too.
Step 1:
Start Your Application
In addition to the Florida Southern Preferred application, Florida Southern College supports the most popular application platforms in higher education including Common Application and Coalition Application. Use the one that works best for you.
Apply for 2023
Florida Southern Preferred Application
Additional materials are required to complete your application
Other Ways to Apply for Fall 2022
If you are already using the Common App or the Coalition App in your search process we also support these popular application platforms.
Check Your Application Status
Log in to your Applicant Status Page using your username and PIN to review your personalized checklist. Once we receive all of your documents, your application will be presented to the Admission Committee for review.
Step 2:
Choose Early or Regular Admission
Students choose the application timeline that meets their personal goals. You can apply via one of our Early Admission processes to receive your decision faster or apply later in the school year via our Regular Admission process.
Early Admission
Students who would like an early answer on their application status may apply Early Admission.
Early Action
Priority Date:
November 1
Notification Date:
December 15
Deposit Date:
May 1
Early Decision (BINDING)
Priority Date:
November 1
Notification Date:
December 15
Deposit Date:
January 15
Learn More about early admission
Regular Admission
Regular Admission deadlines provide more time however applications received after the last date will be considered on a rolling space-available basis.
Before December
Priority Date:
December 1
Notification Date:
January 15
Deposit Date:
May 1
After December
Priority Date:
March 1
Notification Date:
April 1
Deposit Date:
May 1
Transfer Admission
Rolling Admission dates mean transfer students receive decisions approximately 2 to 3 weeks from the date their application and all credentials have been received.
Spring
Priority Date:
December 1
Notification Date:
2 to 3 weeks from the date their application and all credentials have been received
Deposit Date:
December 15
Fall
Priority Date:
June 1
Notification Date:
2 to 3 weeks from the date their application and all credentials have been received
Deposit Date:
July 1
---
Rolling Decision
Applicants electing the rolling decision option will receive their admissions decision within two weeks of receipt of their completed application. Because the number of spaces available in the entering class is necessarily limited, rolling admission continually narrows the opportunities for admission as the cycle progresses. As a result, students are advised to submit applications as early as possible to assure optimal admission and financial aid consideration. Additionally, upon receiving admission, students are advised to submit the required enrollment deposit promptly to reserve their space in the incoming class.
Step 3:
Send Supporting Materials
Submit the following as soon as possible to help us get you your admission decision.
Internationals
Official transcripts of all secondary school education, interpreted English*. (Required)
National Board Exams (Required in select countries)
Test scores: If you apply as Test-Optional, you would not need to submit any additional test scores unless the medium of instruction at your school is not English. Please refer to the English proficiency grid to view minimum score requirements for proof of English proficiency.
Academic recommendation (Required)
If you are transferring, also include:
TOEFL - English Proficiency Required
Proof of English Proficiency is required of all students to submit. If the medium of instruction at your most recent school is not English, you will need to submit at least one of the following exams and provide a minimum score as shown:
View FAQ to learn more about the required documents.
View FAQ
Send your materials to:
Office of Admissions
Florida Southern College
111 Lake Hollingsworth Drive
Lakeland, FL 33801-5698
Fax:
863.680.4120
E-mail:
fscadm@flsouthern.edu
---
After Being Accepted
The following are required:
Bank Letter Verifying Funds of Sponsor - (Total Cost of Attendance - Scholarships received)*
Current passport or Student Visa and I-20
*A bank letter is a written statement on bank letterhead and signed by a bank official.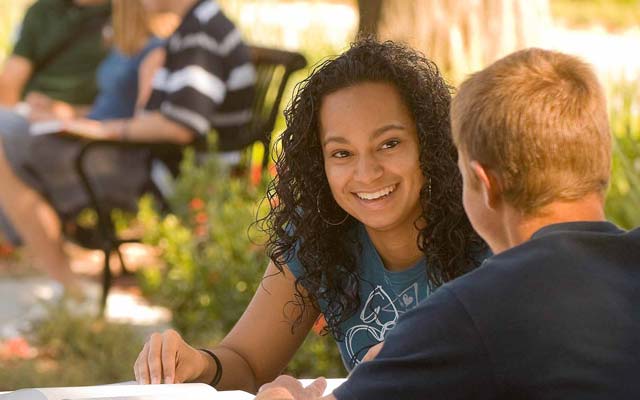 Frequently Asked Questions (International)
We answer many of your most common questions here.
The Support You Need To Thrive
Take advantage of our comprehensive academic and personal advising, tutoring, and wellness services. Our professional staff serves as your personal guides and will help you feel at home with attending college in the U.S.
Student Solutions
The Office of Student Solutions at Florida Southern welcomes you with a well-qualified and welcoming professional staff to assist you with a variety of questions and resources. Your comprehensive resource for student-centered support for collegiate excellence.
Simmons Multicultural Center
The Simmons Multicultural Center provides a variety of quality support services, plan and drive educational and entertaining cultural awareness programs, and provide leadership opportunities through student involvement and service.
Career Services
The Office of Career Services at Florida Southern provides a wide array of services to students and alumni. Subject matter experts are available to help you choose just the right path to meet your career goals.