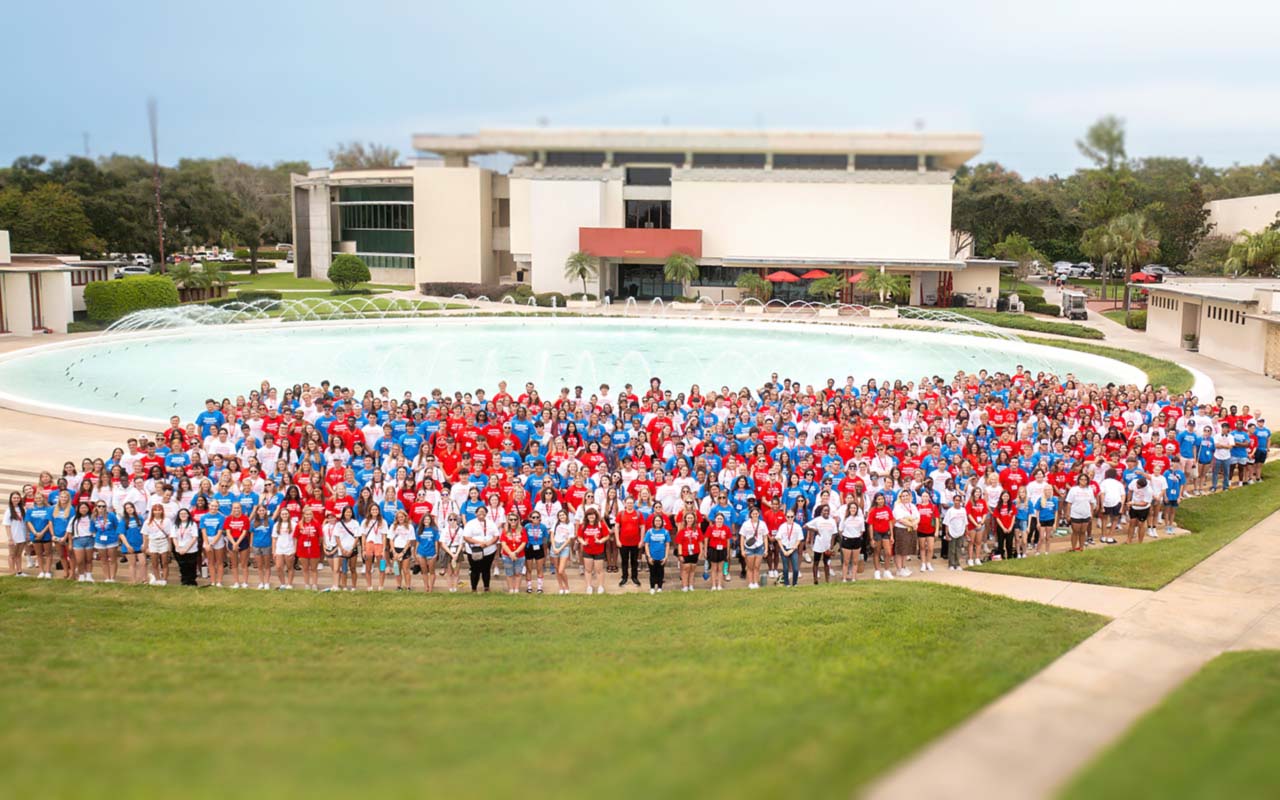 140th Year at Florida Southern College Commences
Class of 2027 Begins New Educational Journey
Aug 25, 2023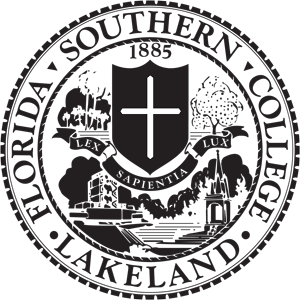 Florida Southern College began its 140th year of operation this week, welcoming students from all over the world to its hallowed halls.
First-year orientation activities dominated move-in weekend, with the Class of 2027 making their debut. Hailing from nearly all 50 states, new students also came from six continents, as far away as England, Hungary, Sweden, Japan, Australia, and Nigeria.
An impressive cohort, the Class of 2027 includes class valedictorians, first-generation college students, social media influencers, inventors, Ironman competitors, even a member of the Tampa Mayor's Youth Leadership Council.
"The Class of 2027 is one of the most dynamic first-year classes we have enrolled," said Arden Mitchell, director of admissions. "They are academically gifted, motivated to succeed and very enthusiastic about beginning their tenure here at Florida Southern."
Florida Southern's dance and musical theatre students and President Kerr treated new students and families to a flash mob performance.
A full weekend of events welcomed the newcomers to campus, beginning with an informal reception on Friday night. Fun-filled panels, sessions, and social events dominated the schedule, highlighted by Convocation on Sunday.
At the traditional gathering, students, families and guests heard from College leadership, including President Anne B. Kerr. The main address came from Dr. Susan Banks, Associate Professor of Biology, who is the 2023 Teacher of the Year, as selected by the student body. Dr. Banks welcomed the newcomers, reminding them that they were standing at the starting line of their college careers. She then borrowed a line from the Mario Kart game, challenging the students with "Ready! Set! Go!"
Orientation weekend eases new students into college life by allowing them to familiarize themselves with the campus and its many resources. Through tours, sessions, and social activities, students connected with faculty, staff, and peers, providing essential information and a supportive start to their educational journey.
For some students, the process was made easier.
The men's basketball program came to campus during the month of July, in preparation for an international trip to Costa Rica. Sam Walters '27, who hails from Charlotte, N.C., took advantage of the opportunity, as he was able to meet his new college roommate, Luke Reilly '27, who also plays basketball, but lives in Glastonbury, Conn.
"We were here for about two weeks," said Walters. "I was able to get a feel for the campus before actual school started. I feel like I got a little bit of a head start."
Walters understands that basketball is only a part of his educational program, as academics are paramount. With an eye towards a career as a business executive, FSC's Barney Barnett School of Business and Free Enterprise made the decision easy.
"FSC has one of the top business programs in the country," Walters said.
As for Reilly, orientation was an opportunity to meet the rest of the campus community, not just his teammates.
"Orientation was engaging," said the business management major who hopes to also minor in finance. "I'm excited for the new year to start."
Reilly looked for a high academic school, one that would prepare him for life in the business world. Distance was not an issue.
"I kind of wanted to go a little far away for school," he admitted. "But realistically, I'm only a two-hour flight from away from home."
For Abigail Thomas '27, she wanted a small college experience, and knew that she had chosen the right college to attend in Florida Southern.
"I didn't want to go to a big public university," said the Maitland, Fla. resident, who will major in computer science. "Once, I emailed a professor on a Saturday, and he responded with a lengthy email within 30 minutes. No other college did that for me."
Being 90 minutes from home was also an attractive selling point for Thomas, who added, "The campus is beautiful."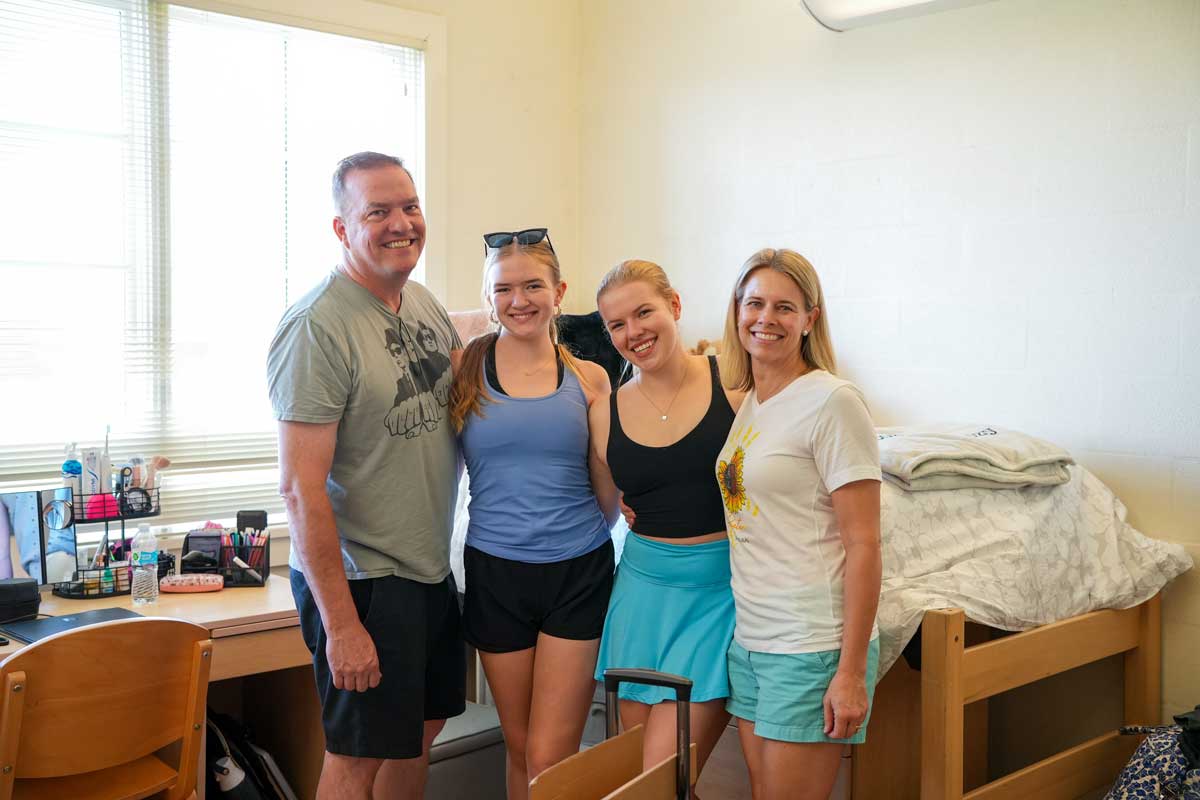 New students represented almost all 50 states, including Alaska. They also came as far away as Lancashire, England, Budapest, Hungary, Kronoberg, Sweden, and Lagos, Nigeria.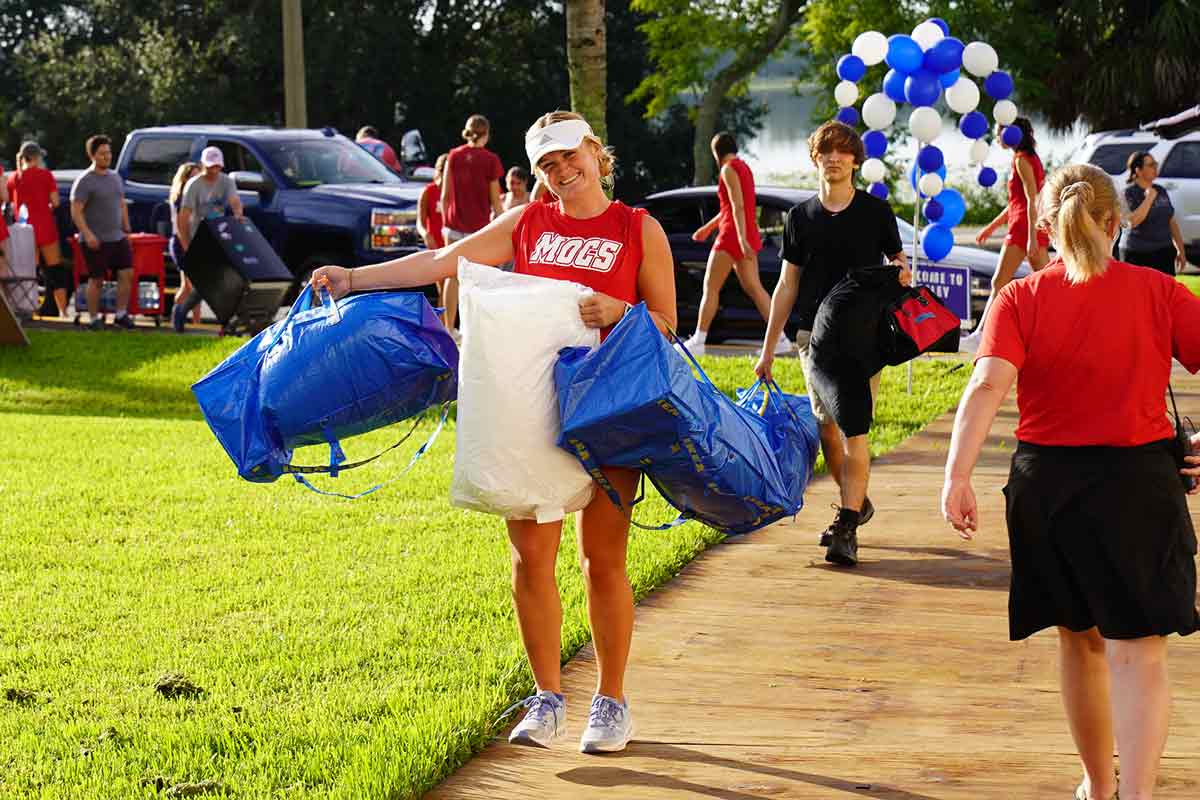 Student athletes like Cassidy Brooke, Class of 2024, helped with carrying first-year student items.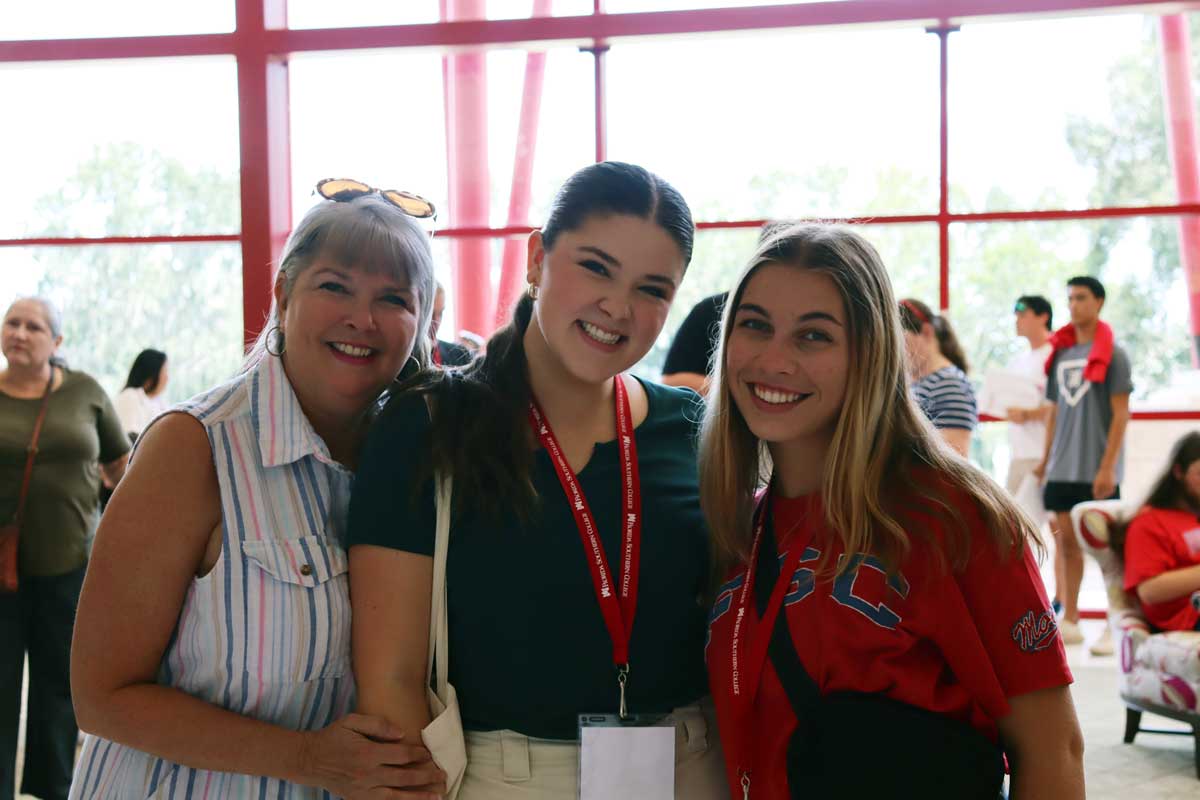 Activities weren't just for students living on campus. Lakeland's Elaina Brausch and Careagan Willams enjoyed connecting with other first-year commuters at Commuter Check-in.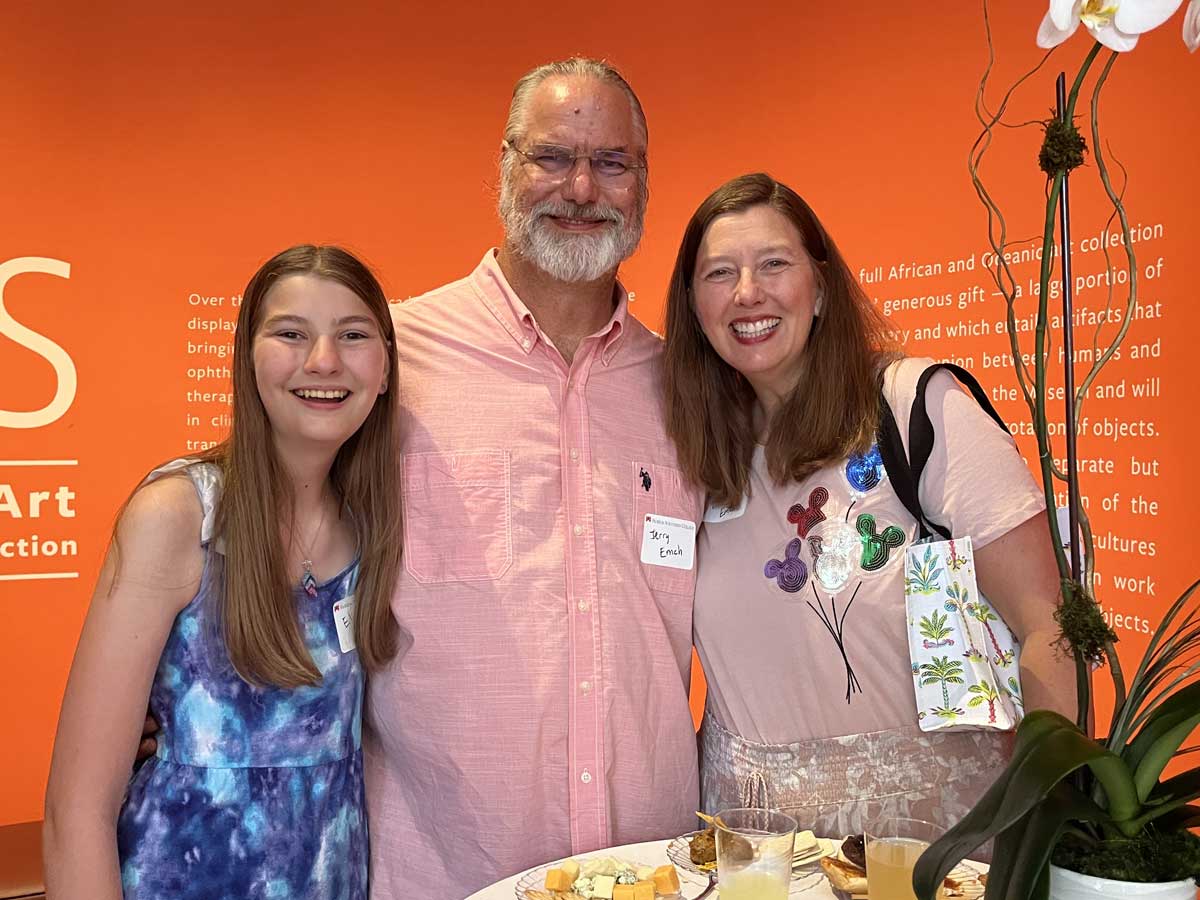 Families were treated to an evening of great food and fellowship at the Polk Museum of Art.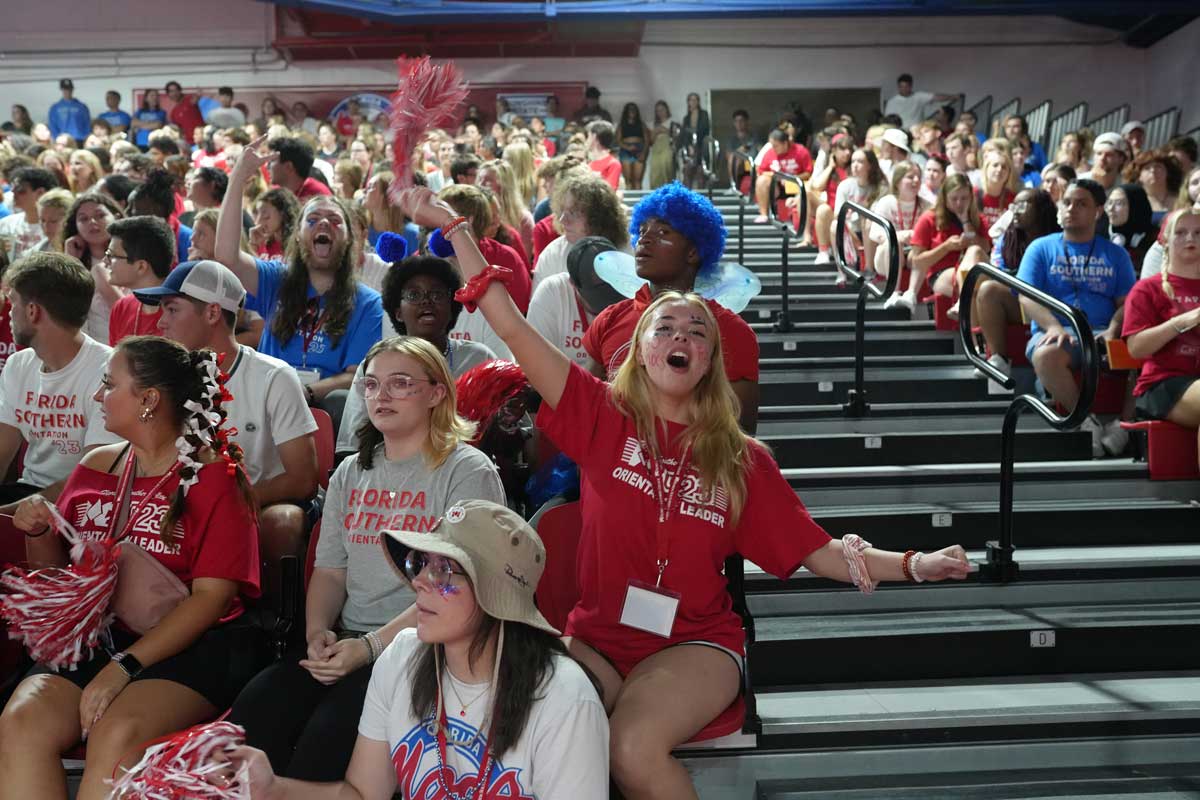 The weekend was capped off with a pep rally at the Jenkins Field House, introducing students to FSC's athletic tradition.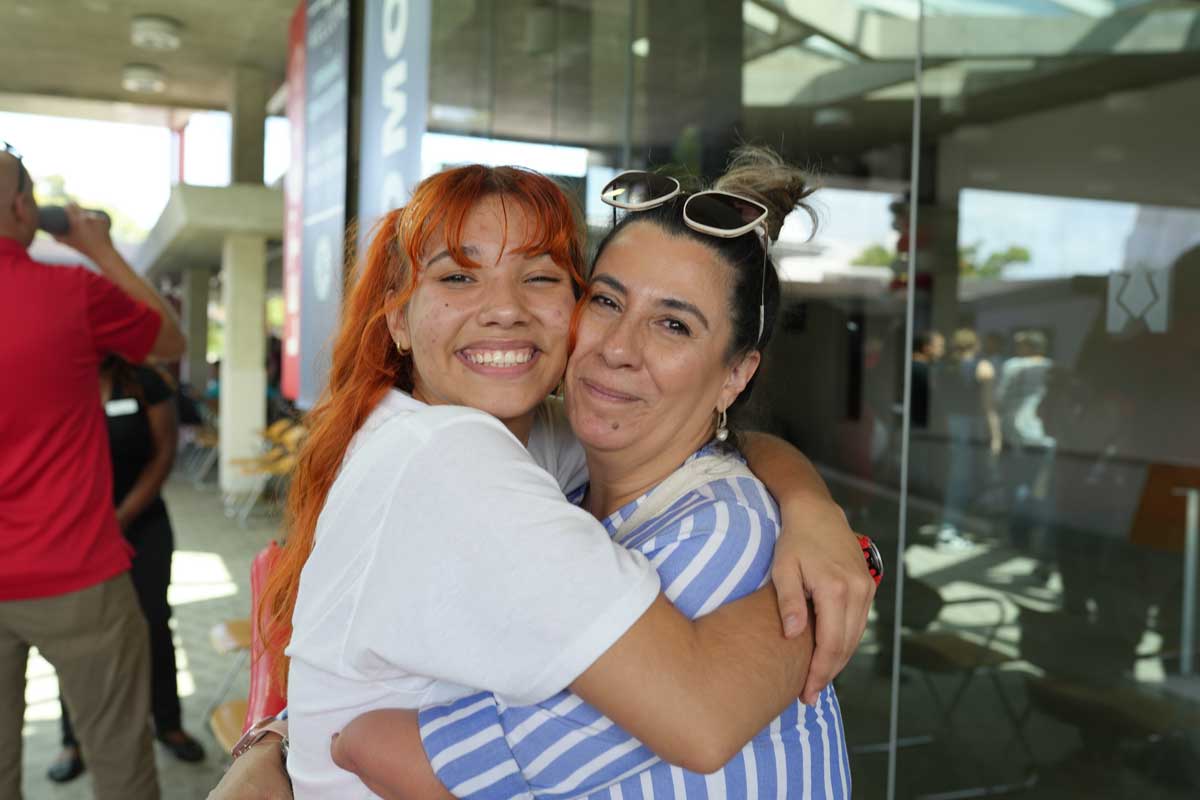 There was no shortage of emotions when parents gave their children one last hug before leaving them in the care of Florida Southern's welcoming staff and faculty.
Follow Florida Southern on Instagram and Facebook to keep up with campus happenings.