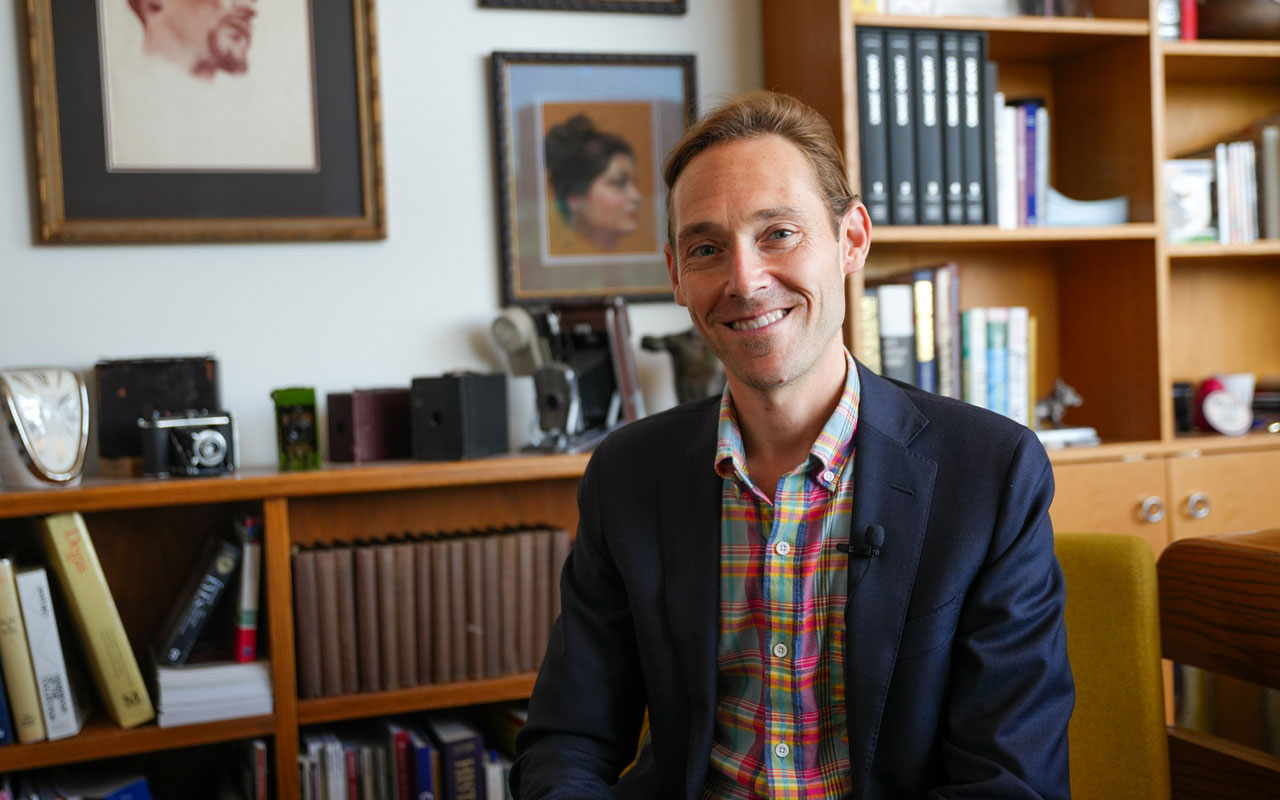 Office Space: Dr. Alexander Rich, Ph.D.
Aug 25, 2023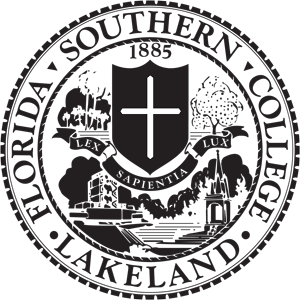 A visit to the office of Dr. H. Alexander Rich will confirm that art is his passion.
Chic and eclectic are the first words that come to mind when entering Dr. Rich's office, located on the second floor of the Smithsonian-affiliated Polk Museum of Art (PMoA). Dr. Rich serves as the museum's executive director and chair of Florida Southern's Department of Art History and Museum Studies.
The two walls directly behind the Dr. Rich's desk include oversized windows that allow for a clear view of the main branch of the Lakeland Public Library, buildings that border Lake Morton, and the site where the PMoA expansion is underway.
Chairs in the cozy sitting area in front of Dr. Rich's desk are retro-futuristic, which is apropos for a professor working at a college famous for its Frank Lloyd Wright architecture.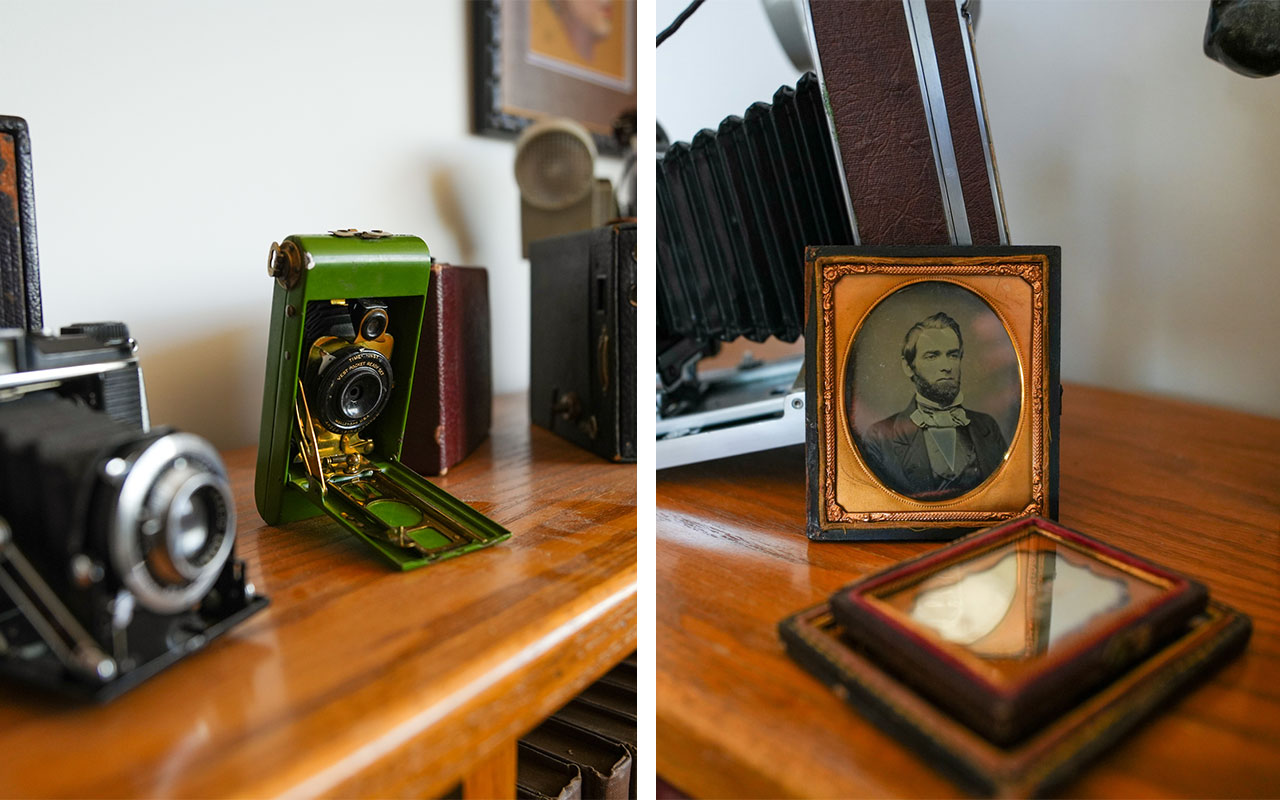 The sitting area is positioned in front of an over-sized bookshelf filled with an extensive collection of books about art and artists. There are shelves dedicated to famous artists including Vincent van Gogh, Claude Monet, Pablo Picasso, and Dr. Rich's favorite artist, Andy Warhol. Books that were once housed in the museum director's New York apartment are among the oldest items in his office.
On the wall directly across from the large bookshelf is a low shelf containing several antique cameras that Dr. Rich, an associate professor and George and Dorothy Forsythe Endowed Chair in Art History and Museum Studies at Florida Southern, uses as teaching tools in his History of Photography class. Dr. Rich also has samples of daguerreotype photos taken using the first permanent photographic process, invented by Louis-Jacques-Mandé Daguerre in 1837.
Next to the low shelf is a tall shelf containing a variety of items that speak to Dr. Rich's interest in Andy Warhol and other pop culture trends.

Among them is his collection of Funko Pops, small figurines renowned for their exaggerated features, including giant bobbleheads and oversized eyes. The Funko Pops depict popular characters from a range of franchises and genres, including DC Comics, Marvel, and Disney, alongside pop culture idols in various styles, poses and outfits. Dr. Rich's Funko Pop figurines include famous artists, television characters, movie characters, and comic book characters.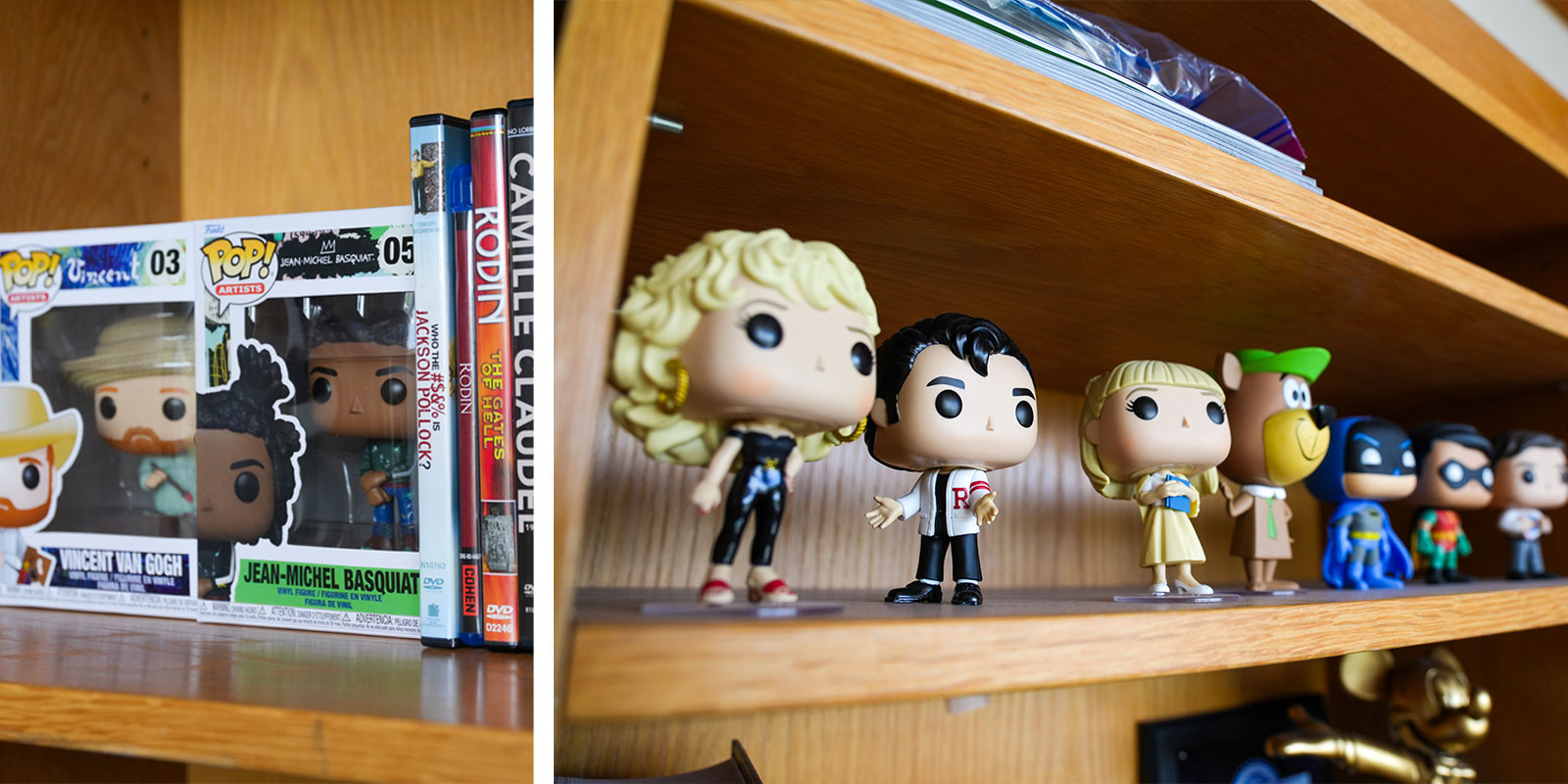 "My Funko Pop collection started as just a little tribute to the few things I liked, and it's actually grown such that at home I think I have more than 60 now," he said. "As I said earlier, I am a pop cultural junky. I'm an art historian so I love high art but I also love low art. I've kind of tried to get Funko Pops that speak specifically to all my childhood favorites, or lifetime favorites."
One of the figurines is a representation of American artist Jean-Michel Basquiat, who was part of the Neo-expressionism movement. The figurine was left on the professor's desk by an unknown benefactor. Dr. Rich suspects it was one of his students.
"I still don't know who got me the Basquiat," he said. "It just appeared on my desk one day."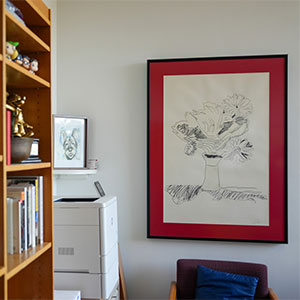 For now, a print of an Andy Warhol drawing from the PMoA's collection hangs directly behind Dr. Rich's desk. The drawing is not a permanent part of the office art. Due to concerns about its exposure to light, it only hangs in Dr. Rich's office for brief periods of time.
"I love when, for several months of the year, I can have this work on paper by Andy Warhol," he said. "Not everyone gets to have an Andy Warhol in their office. Luckily, the museum, we own several Warhols. This work can be in my office for limited periods of time because of light exposure. But when I can have it, I love having it here because I feel like he's with me in the office."
Art that remains in the office year-round includes a piece by Russian painter Wassily Kandinsky. The Kandinsky previously belonged to Dr. Rich's grandfather, who was an art lover. He took his grandson on "playdates" to New York City museums. Dr. Rich credits those trips for inspiring his love of art.
Dr. Rich also has a 1950s typewriter that belonged to his grandmother on display. He acknowledges that he does not know how to use a typewriter, so it's purely decorative.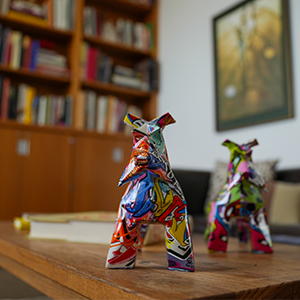 There are tributes to Schnauzers, his favorite breed of dog, in various forms throughout his office as well.
Being able to teach about art inside the Polk Museum of Art, while surrounded by many of his favorite things, is fulfilling to Dr. Rich.
"It's incredible that now I get to be a full-time professor, a full-time museum director, and a full-time curator all rolled into one," he said.
Dr. Rich encourages his students to visit him in his elegantly decked out office.
"I think one of the really important parts about having that facetime with your professors is that if you're going to a school like Florida Southern, the great advantage is you're always going to have a professor teaching you in class, as opposed to a larger school where you might be a small fish in a very large pond," Dr. Rich said. "It's a real advantage to you as a student to get to know your professors on a different level, and to know them as people. So, I would encourage every student to come to office hours and to set up appointments with their professors. It is a missed opportunity if they do not do so."
Get to know Dr. Rich, and learn more about FSC's Art History and Museum Studies program »