Kristen Carter, Ph.D.
Assistant Professor of Art History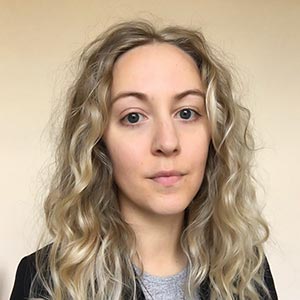 My teaching situates art within wider social, cultural, and political histories. My goal is to get at what certain moments looked or felt like while holding view of their resonance now. Art History should not only cultivate empathy and curiosity, it should also challenge students to approach problems and questions from multiple directions and in ways that are honest about the messiness of the world we live in.
Biography
Dr. Carter is a specialist in modern and contemporary art history, with a particular focus on American art in the 1960s and 1970s. Her research interests include modes of viewership, participation, subject formation, and institutional critique with an emphasis on post-1968 artistic praxis and pedagogy. Dr. Carter has presented and published on a range of topics, including performance, body art, and dance, histories of art and pedagogy in the early 1970s in the U.S., Europe, and Latin America, and the changing relationship between art and politics circa 1968. She is currently working on two research projects. The first examines histories of experimental art education in California in the early 1970s. The second studies the violence of body art in the 1960s and 1970s within historical and contemporary notions of toxic masculinity.
Dr. Carter earned her Ph.D in Art History and Theory from the University of British Columbia (UBC). Before joining Florida Southern as an Assistant Professor, she taught modern and contemporary art history at UBC and Emily Carr University of Art and Design in Vancouver, B.C.
Education
Ph.D., Art History, University of British Columbia, Vancouver, B.C.
B.A., Art History, DePaul University, Chicago, IL.