Office of Dining Services
Food, Fun, and Refreshments
FSC's Guest Services is dedicated to providing the best quality dining and hospitality services to our campus visitors, staff, and students.
Your busy life requires many locations, many different foods, and many different services. We offer eight dining options on campus along with catering services. These options include a variety of food and service offerings from nutritious meals in the main dining hall to a quick burger on your way to class at the campus grill.
Our basic philosophy is that the College's food service program is focused on you, the student, and your needs and desires. We are here not only to offer good food and friendly service, but to meet your special requirements for such things as vegetarian meals or special diets.
Buck Stop
The Buck Stop, located under the large oak tree in the middle of campus, offers a quick and easy way to grab a bite to eat as you travel to and from class. The Buck Stop serves breakfast sandwiches, grill items and pizza!
*Prices subject to change.
Buck Stop Menu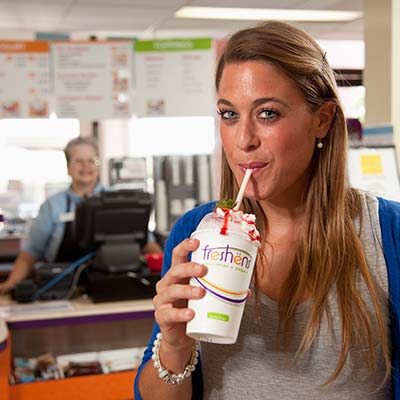 Freshens
Located underneath Wynee's Bistro, inside of the Terrace Cafe, Freshens offers a variety of smoothies and frozen yogurt desserts. In addition, Freshens offers a variety of nutrition items, such as protein shakes and superfood smoothies.
Grill Master
Grill Master, located next to the entrance to TuTu's by the Roux Library, offers a quick and easy way to grab a hot bite to eat while at the library. The Grill Master serves freshly grilled hamburgers, hot dogs and chicken sandwiches.
*Prices subject to change.
Grill Master Menu
Happy Place
The Happy Place food truck, located near the the Becker Business building, offers a quick and easy way to grab a hot bite to eat while on the run. They serve freshly made barbeque, wraps, sandwiches, and daily specials that will make your mouth water.
*Prices subject to change.
Happy Place Menu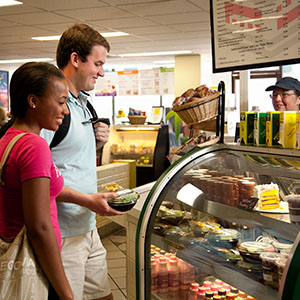 Healthy Blend Deli
Florida Southern's Healthy Blend Deli is proud to partner with Boar's Head brand meats to make delicious paninis, subs, clubs, and more in a lively, casual environment. Located downstairs from Wynee's Bistro and across from the Bookstore, Healthy Blend Deli offers a great view of the pool for indoor or outdoor dining.
*Prices subject to change.
Tutu's Cybercafe
TUTU's Cyber Cafe, featuring Starbucks Coffee products, is located inside the Roux Library. With great views of the Frank Lloyd Wright Water Dome, students can lounge in the large chairs or on the couches, watch TV on the flat screen or surf the internet on the computers and enjoy the freshly baked goodies, salads or sandwiches.
*Prices subject to change.
TuTu's Menu
WYNEE'S BISTRO
Wynee's Bistro is the main dining hall on campus. Use your meal plan at Wynee's Bistro for an affordable variety of nutritious cuisine options including a salad bar with over 40 items, Wrap 'N Roll serving fresh sandwiches and salads, sushi, Portobello serving pizza and fresh pasta, and Wright At Home serving a daily rotation of home cooked favorites.
WYNEE'S HOURS
Monday through Friday
7:00 AM to 2:00 PM
4:30 PM to 8:00 PM
Saturday
8:00 AM to 1:30 PM
4:30 PM to 8:00 PM
Sunday
8:00 AM to 1:30 PM
4:30 PM to 8:00 PM
IN A HURRY?
We also have several vending machines across campus, offering a variety of snack and beverage options. Cold beverages are also available for purchase in the bookstore.
If you are just looking to quench your thirst between classes, there are a number of water bottle filling stations across the campus.
DIETARY RESTRICTIONS?
If you have dietary restriction for health, ethical, or religious reasons, Florida Southern offers a variety of alternatives to help meet your needs.
MOC MART
Moc Mart provides a wide variety of grab 'n go convenience items just for you. We stock everything from drinks, chips, and nuts to candy bars and energy bars. The MocMart is located beneath Wynee's Bistro, next door to the Terrace Cafe. Please note that backpacks are not allowed in the Moc Mart.
MOC MART HOURS
Monday through Friday
7:00 AM to 11:00 PM
Saturday
9:00 AM to 11:00 PM
Sunday
9:00 AM to 11:00 PM